Neck
The neck is an aesthetic unit in itself and as such requires a specific treatment accordingly.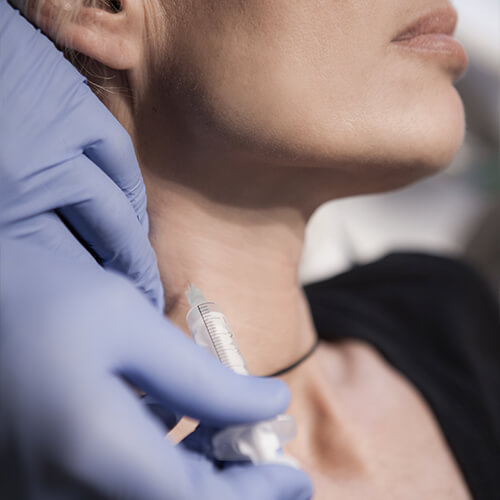 The neck is divided into two parts:
•  One constituting the above-hyoid level corresponding to the floor of the mouth that is the horizontal part of the neck. The aging of this area gives a double chin appearance with or without excess fat cells.
•  The other component level sub-hyoid, i.e. the vertical portion of the neck.
As for the face, neck aging headquarters the appearance of vertical lines and / or horizontal and a wrinkled appearance. This state is secondary to the presence of a cutaneous relaxation associated with repeated contractions of the neck muscle (the platysma). Thus, cosmetic correction of the neck through:
•  Rejuvenation of the texture of the skin using peels, mesolift and / or tri-polar radiofrequency,
•  The fight against wrinkles horizontal and / or vertical by BOTOX by acting on the neck muscle,
•  The restoration of the horizontal part of the neck (hyoid above-level) with the establishment of facial suspension threads to treat double chins,
•  Restoration of the vertical portion of neck also treatable by the establishment of facial threads.
With our therapeutic arsenal that we have in Aesthetic Medicine, we can avoid surgery and restore the beauty of your neck by improving the radiance of your skin.
Need information? Do you make an appointment?
Contact us via our form or directly by phone. We will respond as soon as possible.
Office Doctor Patrice Piquemal
13 rue Gambetta
83990 St Tropez
Var, France
Desk : +33 (0)4 94 54 89 04
Cell : +33 (0)6 19 51 08 12
To park in Saint-Tropez: Citadel Avenue, Paul Signac Avenue.
Docteur patrice piquemal
13 Rue Gambetta, 83990 Saint-Tropez
Copyright © 2015 – Doctor Patrice Piquemal
Find us on : 

Instagram
Graphic artist : Jimmy Phan – Webdesigner : Camel Design