Lips
The youth and beauty of a face also rely on the presence of naturally full and luscious lips.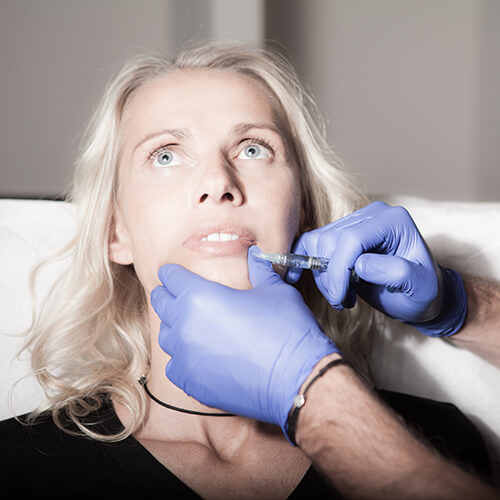 Our lips are also a focal point of our aging and thus requires a treatment tailored rejuvenation. The lips include the skin portion around the lips (lip white) and the lip itself (red lip).
Aging is characterized by the 'white lips':
•   A degradation of the quality and texture of the skin by a decrease of collagen fibers, elastic fibers and marked by the presence of perioral wrinkles, which can be enhanced by smoking. Rejuvenation can be obtained, depending on the type of wrinkles (deep or superficial), by means of peeling, use of PLEXR and / or hyaluronic acid injections,
•   The appearance of brown spots and / or diminished texture can be treated based on peels.
The aging of the red lip is characterized by:
•   Fine lips and droopy lips (lip returning to the inside of the mouth). This rejuvenation is through injections of hyaluronic acid to hydrate, redraw the hem and if necessary to restore with in reason, reasonable amount of volume. In a recent find, we can use absorbable threads to shape the lips: the effect is very natural and gives a new beauty to your lips.
Need information? Do you make an appointment?
Contact us via our form or directly by phone. We will respond as soon as possible.
Office Doctor Patrice Piquemal
13 rue Gambetta
83990 St Tropez
Var, France
Desk : +33 (0)4 94 54 89 04
Cell : +33 (0)6 19 51 08 12
To park in Saint-Tropez: Citadel Avenue, Paul Signac Avenue.
Docteur patrice piquemal
13 Rue Gambetta, 83990 Saint-Tropez
Copyright © 2015 – Doctor Patrice Piquemal
Find us on : 

Instagram
Graphic artist : Jimmy Phan – Webdesigner : Camel Design