HIFU, high intensity focalised ultrasounds
You would like to treat the facial and neck sagging skin or somewhere else on your body (arms, belly, thighs,…), this technique will give you the best option for this problem.
HIFU have been approved by the FDA (Food and Drug Administration), in other words by the highest health autority of USA. It means that this device give you a safety procedure.
It's completly non surgical and non invasive process for a very clear improvement of skin tightening and skin rejuvenation.
«Mini-lifting » without surgery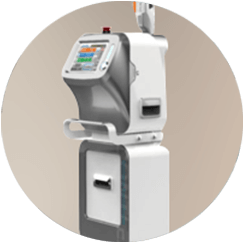 This device can be used in any season for women or men, for every kind of skin color.
The goal is to prevent and to treat every sagging part of your skin located :
In the face and/or the neck :
eyelid (upper and lower part)
eyebrow lifting
chekbone
jaw line
double chin
neck

HIFU is an advanced cosmetic technology which can significantly tighten and lift several areas of the face and body, reduce the signs of ageing and improve the tone of the skin in one session or two sessions in 6 weeks in function of the importance of sagging skin.
Ultrasounds will induce the production of collagen and elastin fibers which lead to a skin retraction.
After 3 Months, we will see this first effects which will be improved day after days.

Each session lasts from 30 mn to 1h30 in function of the area. This is non surgical procedure without any preparation before going to the session. During the session, you could feel some tinglings which lasts few minutes.

Just after the session :
• No recovery time,
• Redness part of the skin lasting few hours
• Discreet swelling lasting few days
• Soreness lasting few days
• No scars,
Need information? Do you make an appointment?
Contact us via our form or directly by phone. We will respond as soon as possible.
Office Doctor Patrice Piquemal
13 rue Gambetta
83990 St Tropez
Var, France
Desk : +33 (0)4 94 54 89 04
Cell : +33 (0)6 19 51 08 12
To park in Saint-Tropez: Citadel Avenue, Paul Signac Avenue.
Docteur patrice piquemal
13 Rue Gambetta, 83990 Saint-Tropez
Copyright © 2015 – Doctor Patrice Piquemal
Find us on : 

Instagram
Graphic artist : Jimmy Phan – Webdesigner : Camel Design