LED: Dynamic phototherapy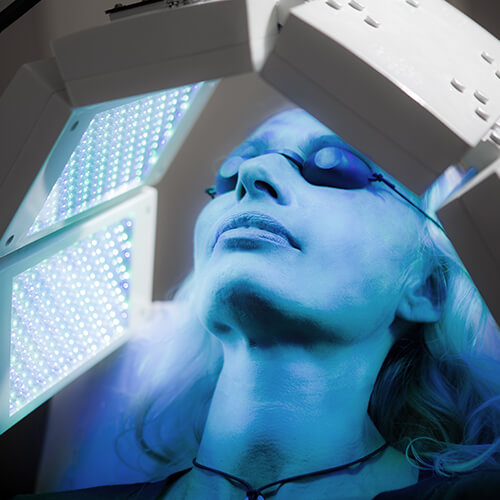 The aim of this anti-aging and restorative technique is to improve the antioxidant cell function by increasing the synthesis of collagen, vascularization of tissues, and cell permeability.
Clinical and biological study has also been conducted at the Pitié Salpêtrière (PARIS) have shown a restructuring effect on the elastic fibers and collagen. This technique of photodynamic therapy or light emitting diode, and includes several indications, the most common are: the fight against anti-aging, stimulation of the scalp as part of a control protocol against hair loss, treatment certain rheumatic pains disorders, treating stretch marks, treatment of acne, and improve of scars. This is a non-invasive technique, completely painless and using said light system.
For added efficiency, this technique is used in conjunction with others, including hyaluronic acid injections, and peels.
Need information? Do you make an appointment?
Contact us via our form or directly by phone. We will respond as soon as possible.
Office Doctor Patrice Piquemal
13 rue Gambetta
83990 St Tropez
Var, France
Desk : +33 (0)4 94 54 89 04
Cell : +33 (0)6 19 51 08 12
To park in Saint-Tropez: Citadel Avenue, Paul Signac Avenue.
Docteur patrice piquemal
13 Rue Gambetta, 83990 Saint-Tropez
Copyright © 2015 – Doctor Patrice Piquemal
Find us on : 

Instagram
Graphic artist : Jimmy Phan – Webdesigner : Camel Design